The growth of tourism in Cambodia has attracted a large number of tourists each year, with Siem Reap being one of the most popular destinations. Visitors to Siem Reap can immerse themselves in the history and culture of this magical land. In addition, if you're searching for a more abundant journey, Siem Reap has many top-notch hotels that offer the ultimate luxury experience without breaking the budget! Read on as we share with you the best 5 star hotels in Cambodia Siem Reap.
VIROTH'S VILLA
The first 5-star hotel in Siem Reap on our list is Viroth's Villa. It's on the outskirts of the famous Angkor Wat. Viroth's villa has 19 accommodations, including a boutique villa, suites, and apartments for business and leisure travelers. Viroth's Villa is a trendy, tiny, and intimate location for a romantic yet economical stay in Siem Reap, causing quite a stir among boutique hotel connoisseurs.
This relaxing contemporary hideaway, minimalist in style but massive in design, provides delightful massages, outdoor dining, and a tropical pool. The capacity of Viroth's villa is its disadvantage. Because of the limited amount of available accommodations, guests must plan ahead of time, especially during peak season.
SHINTA MANI ANGKOR
Shinta Mani Angkor is another best five star hotel in Siem Reap. This luxury boutique hotel entices with soft lighting, pleasant scents, and modern Cambodian design by Bill Bensley, a renowned architect. While staying at Shinta Mani Angkor, travelers can enjoy the roomy accommodations, unwind by the hotel's refreshing pool, and experience the relaxing spa and romantic swing-seat dining. Moreover, there are customized tours for vacationers to explore the glittering temples of Angkor. This boutique property is undoubtedly one of the most luxurious hotels in Siem Reap.
However, accommodating tourists from various walks of life may prove challenging. Shinta Mani Angkor can be a tad pricey for mid-range guests
TREELINE URBAN RESORT
Treeline Urban Resort is one of the latest additions to the 5 star hotels in Cambodia Siem Reap list. Its stunning rooms alone would offer a charming environment for post-temple lounging sessions. This laid-back, eco-friendly hideaway offers plenty more, from its Instagrammable rooftop pool to a buzzing noodle bar and fabulous art collection.
What is unique about Treeline Urban Resort is that it supports local artists and artisans. If you are an art lover, look for the private art collection around the hotel and temporary exhibitions, such as a retrospective of the work of legendary architect Vann Molyvann.
SOKHA ANGKOR RESORT
Another pick for the best 5 star hotels in Siem Reap is the Sokha Angkor Resort. It is one of Siem Reap's most prominent luxury hotels, with 275 rooms and numerous amenities. While staying at one of the best 5 star hotels Siem Reap, guests will be in awe of the wide range of dining selections. There is something for everyone, including a buffet restaurant, a fine dining room, a Japanese restaurant with a sushi bar and Teppanyaki, and an Irish sports bar with activities. Sokha Angkor Resort is ideal for large groups, which can be a disadvantage if you are in a small group or as a couple.
During peak season, the resort can become overcrowded rapidly, making it difficult for vacationers looking for a relaxing stay.
VICTORIA ANGKOR RESORT & SPA
Our last pick for the best 5 star hotels in Cambodia Siem Reap is Victoria Angkor Resort & Spa. With the right amount of capacity, a reasonable price, and a spectacular design, this resort is an excellent choice for your upcoming trip to Siem Reap. This resort is designed to look like a colonial tea planter's home. It successfully blends near-palatial decor and pristine furniture with pre-war reminiscence.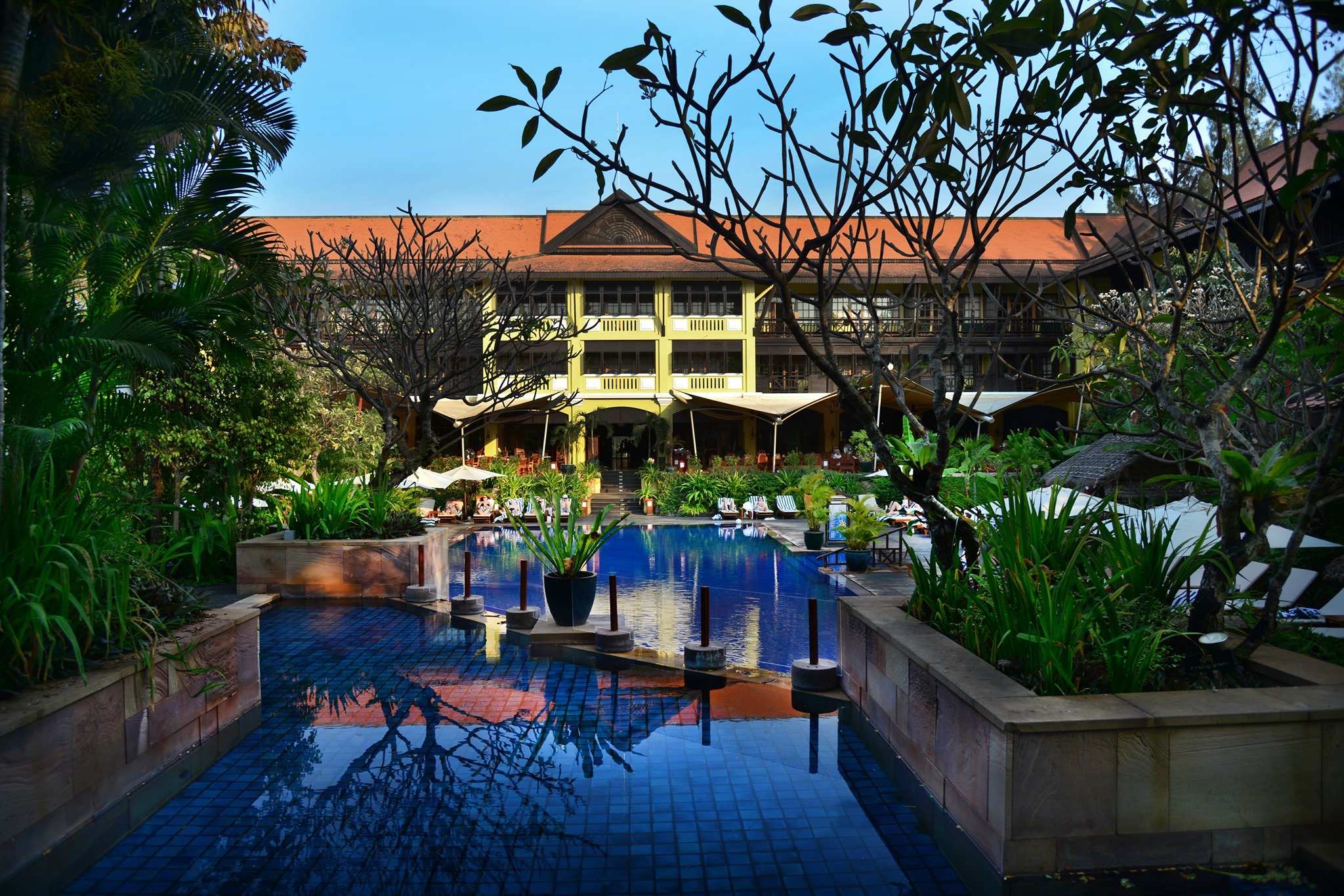 The Victoria Angkor Resort & Spa in Siem Reap is one of the best 5-star hotels in Cambodia
The collection of vintage automobiles and the Korean-made antique metal lifts are stunning elements. The transition from the history-infused foyer to the central courtyard with its tropical pool ambiance is flawless. Victoria Angkor Resort & Spa has 129 rooms and suites designed based on colonial charm and modern luxury combined. Their accommodations are spacious, elegant, and nicely equipped with modern amenities.
ENJOY A THREE-NIGHT STAY AT VICTORIA ANGKOR RESORT & SPA WITH LOTUS CRUISES' SIEM REAP PACKAGE
Let Lotus Cruises show you the best of Siem Reap on your upcoming trip. With our Siem Reap Land Package, your venture to this magical Khmer land will be complete. At $699 per person, guests will spend three nights at the magnificent Victoria Angkor Resort & Spa. This land package also includes two half-day excursions to the most influential temples of the Angkor Wat complex, including Bayon, Ta Prohm, Angkor Thom, and the grand temple of Angkor Wat. If you are up for an adventure, you can experience a sunrise breakfast and ride around Angkor Wat on the back of an elephant.
So what are you waiting for? Book the Siem Reap Land Package with Lotus Cruises today for your next journey to Cambodia.