South East Asia has long been a popular destination for first-time and experienced travelers. The majestic yet rustic scenes of nature, the rich cultures, and the phenomenal cuisines attract visitors from all over the world.
There is something for everyone, whether you want to solo backpack in the region or go on a river cruise along the Mekong Delta with your partner to unwind and explore lives around the area.
Let's delve deeper into river cruises in the Mekong Delta—a slower-paced yet exciting and authentic way to travel in South East Asia.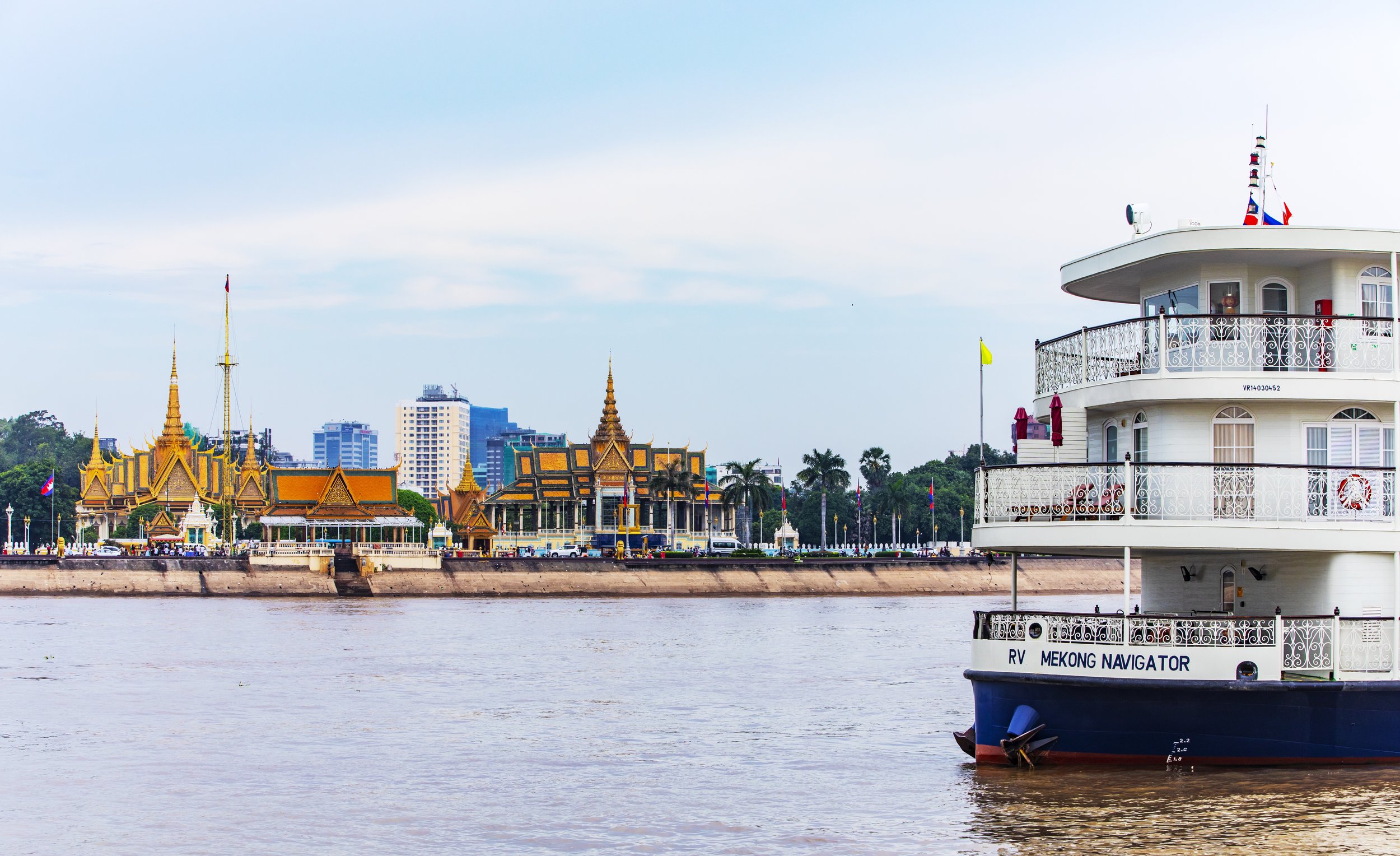 River Cruises in South East Asia – Wonders Await to Explore
THE PURE BEAUTY OF THE MEKONG DELTA AND ITS SURROUNDINGS
The diverse natural landscapes
The Mekong Delta, one of the world's longest rivers, plays vital roles in various physical and biogeochemical processes on the Earth's surface. Thousands of species of mammals, reptiles, fish, and birds call it home.
The Mekong River's beauty is unmatched in this world. Its ancient and rustic charm is captivating. Traveling down the Mekong River allows you to immerse yourself in the lush mangrove forest, explore the diverse ecosystems, and become familiar with the simplicity of river life.
The intriguing man-made spectacles
The Mekong Delta is full of surprises. The scenery changes as you travel along the river cruise route.
Along the way, you will pass through various fishing villages with traditions that continue to develop to this day. You will witness mesmerizing archeological monuments like the ancient temples of Angkor Wat, which have existed in this form for hundreds of years. Such diversity makes your river cruise experience in the region unforgettable.
The people and their cultures
Cultural exploration has always been a highlight of traveling along the Mekong Delta, especially on river cruises.
The region's distinct, rich, and diversified cultures attract the hearts of visitors every time. The friendliness and genuineness of South East Asian people provide comfort to the tourists.
All in all, the beautiful memories of eating delicious local food, visiting local villages, and learning more about the history of the destinations will stay with you forever.
HOW LOTUS CRUISES CAN ELEVATE YOUR EXPERIENCE
As the demand for tourism along the Mekong Delta has increased tremendously, more river cruise lines have entered the market. And among that, Lotus Cruises is proud to be among the best.
Our boutique river ships, welcoming staff, and exceptional cultural performances ensure you a memorable journey along the Mekong.
The variety of activities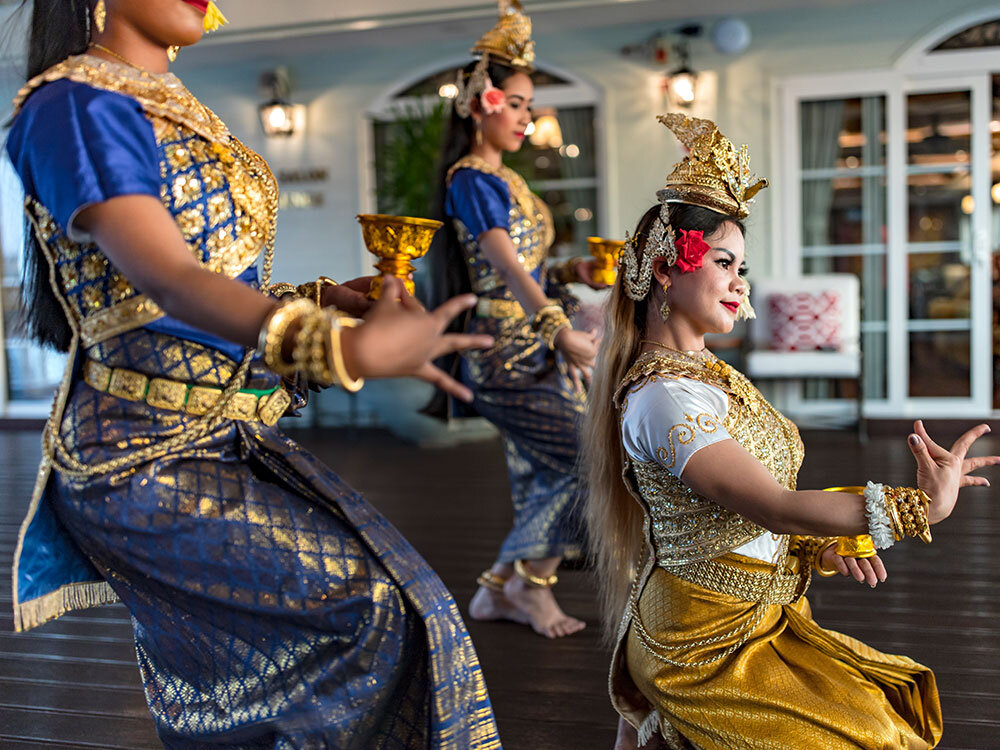 How Lotus Cruises Can Elevate Your Experience
On board our boutique river ships, you will enjoy world-class services and luxurious amenities. You can participate in one of our cultural excursions or relax and enjoy the view of the Mekong River from our wonderful sun deck. After a long day of exploration, you can unwind at our spa or enjoy a glass of high-quality wine at Le Salon. Our exquisite restaurants provide chef's signature dishes and first-rate service, ensuring that your dining experience is unforgettable.
We offer a carefully crafted itinerary if you want a private adventure around the Mekong Delta. A professional and bilingual guide will accompany you throughout the trip and provide a thorough understanding of Vietnamese and Cambodian culture.
Lavish accommodation
The extravagant detailing of the French colonial era in the 1930s inspired the design of our river ships' spacious and elegant suites. Each suite on our river cruises is furnished with contemporary conveniences to provide a comfortable stay during your trip.
Our professional and multilingual staff offers "7-star services" that will make your Mekong stay memorable. If you prefer a more personalized experience, our top-tier suites include complimentary butler service.
Meaningful travel experiences
Not only do we care about our guests' vacation enjoyment, but it is also our goal to conserve the Mekong Delta and the livelihoods that rely on it. Our river tours have a low impact on the delta's ecosystem. Our cultural activities are designed to benefit more local populations. Why not take advantage of the opportunity to have more meaningful travel?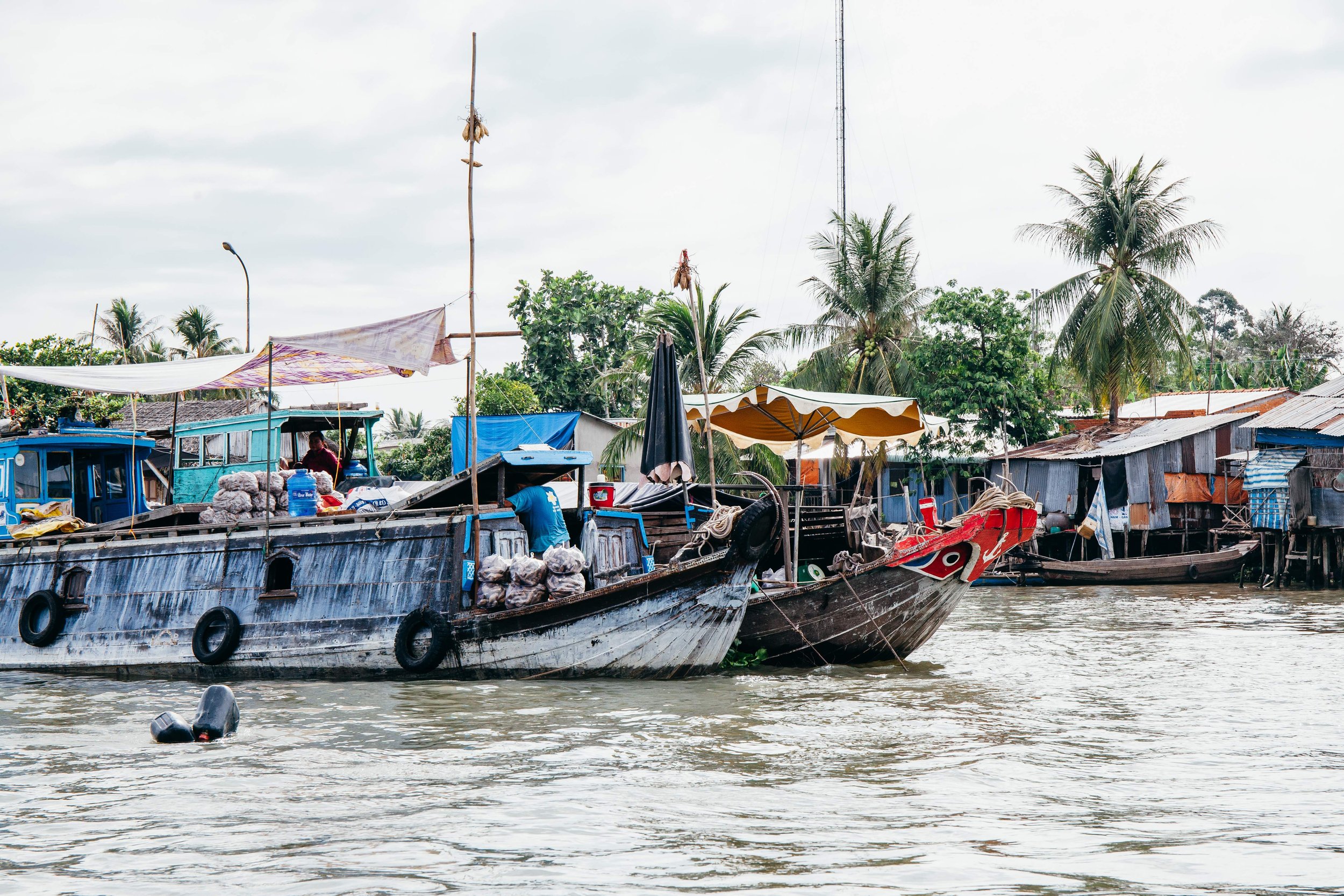 Our cultural activities are designed to benefit more local populations
LOTUS CRUISES – THE BEST RIVER CRUISE IN SOUTH EAST ASIA
The Mekong Delta is unrivaled for a one-of-a-kind river cruising adventure. Whether you are new to river cruises or have previously traveled by ship in other parts of the world, Lotus Cruises is proud to be your partner.
There is availability for everyone, from expert travelers or retired couples to special interest groups that want to voyage together. Join us on a unique river cruise experience on the beautiful Mekong River.
Access our brochure here for further details, or click here to start booking your next cruise trip now!